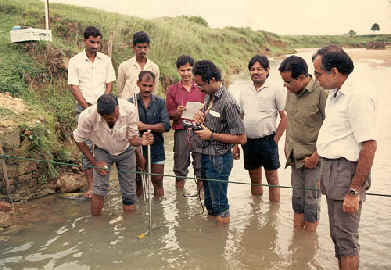 Field training on hydrological monitoring at Hazaribagh, Jharkhand
One of the major activities of the project is to further strengthen training in Watershed Management in India. For that purpose, we are contributing the new concepts and methodologies and are as well organizing and conducting training in India in fields related to Watershed Management. The ultimate purpose of this website is to enable online training and experience sharing in Watershed Management in India.
Feel free to browse and download our tutorials.
The downloadable files are in saved as Adobe Portable Document Format (PDF) files. This allows the original formatting of the files as printed on paper to be retained. If you do not have the free Adobe Acrobat Reader (available for all popular computer platforms), you may download it directly from Adobe at no charge.